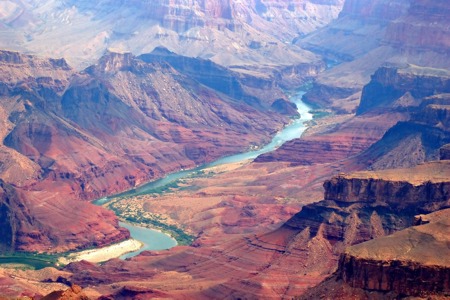 If you are thinking of vacationing at the Grand Canyon, I have four words for you....Think Big and Plan Ahead. The sheer size of the area makes it imperative that you schedule your days and nights in advance.
The on-site lodging is limited and booked many months ahead of time. And, it is a long drive in any direction to hotel facilities. There are very few private campgrounds available nearby also.
Other activities that you will want to plan well in advance are camping/backcountry hiking, mule trips, and boating/river rafting.
Having said all that, if you just want to drive in and take the rim tour(done by bus now), you can sit back and enjoy the most gorgeous view on the planet....in my opinion, anyway. You cannot imagine the colors, the depth, the bird's eye view in all of it's breathtaking wonder.
The more adventurous among you will want to take advantage of the nearby airport service and rent a plane to fly you over the rim, where only the eagles dare to go. There is no experience so awe-inspiring like that of breaking over that rim. The rush is intense.
There are the inevitable gift shops....but these stores are packed with things that you really want to take home with you. Enter at your own risk!
For the kids.....or the child in you, there is biking, horseback riding, nature walks, ranger programs and skiing and snowshoeing in winter. Not to be missed is the Bright Angel Trail, whether you go by foot or mule. It is a wonderful trail with beautiful views and really gives you the feel of the canyon. Bring a camera, binoculars, walking shoes, and a sense of adventure. Enjoy !