TOMALES BAY STATE PARK
The Coast Miwok people were the first to inhabit the coastal area of sheltered coves, beaches, tidal marshes, and forest of Bishop pines now known as Tomales Bay State Park, forty miles north of the Golden Gate Bridge.

Sir Francis Drake was the first explorer to land in this area in 1579, followed by the Spanish in 1595. Russian and German scientists explored the area in the early 1800s.

In the 1940s real estate developers began to purchase large areas of beachfront land, prompting local residents and conservation groups to save this area as a park. In 1952, Tomales Bay State Park was formally dedicated and opened to the public.
---
Tomales Bay State Park is located near Mill Valley, Novato and Petaluma
---
Johnstone Trail

From Heart?s Desire Beach to Jepson Memorial Grove is 3 miles round tripwith 300-foot elevation gain; to Shell Beach is 8 miles round tripTwo lovely trails, named for a professor and a planner, explore Tomales Bay State Park. Jepson Trail honors Botanist Willis Jepson, founder of the School of Forestry at the University of California, Berkeley, and author of the authoritative Manual of the Flowering Plants of California. Conservationist Bruce Johnstone, Marin County planner, and his wife, Elsie, worked hard to preserve Tomales Bay and place part of it in a state park. Johnstone Trail leads bayside from Heart?s Desire Beach to Shell Beach.

Bay area walkers have a little secret: When fog smothers Pt. Reyes and San Francisco Bay, try heading for Tomales Bay State Park. The park has a microclimate, and often has sunny days and pleasant temperatures when other neighboring coastal locales are damp and cold.

Directions to trailhead: From the town of Inverness, follow Sir Francis Drake Boulevard to Pierce Point Road. Turn right and drive a half mile to the entrance to Tomales Bay State Park. Follow signs to the large parking lot at Heart?s Desire Beach.

The hike: Near the trailhead are some interpretive displays that tell of clams and Bishop pine. Signed Johnstone Trail departs from the south end of Heart?s Desire Beach and immediately climbs into a moss-draped forest of oak, bay, madrone, and wax myrtle.

A half mile of travel brings you to Pebble Beach. At a trail junction, a short side trail goes straight down to Pebble Beach, but Johnstone Trail swings southwest and begins switchbacking up forested slopes. Some wetter areas of the coastal slope are dotted with ferns. The trail crosses a paved road and soon junctions.

To continue to Shell Beach, you?ll bear left with the Johnstone Trail. The trail detours around some private property, and contours over the coastal slope at an elevation of about 500 feet. Some strategically placed benches allow walkers to savor the fine bay views afforded by the Johnstone Trail. The path leads through Bishop pine and a lush understory of salal and huckleberry bushes. After a few miles, the trail descends through madrone and oak forest to Shell Beach.

Walkers content with looping back to Heart?s Desire Beach via Jepson Trail will continue straight at the above-mentioned junction. Bishop pine, along with its similar-looking piney cousins, the Monterey and knobcone, are known as fire pines, because they require the heat of fire to crack open their cones and release their seeds. Bishop pines are slow to propagate and are relatively rare in coastal California. (Another nice stand of Bishop pine is located in Montana de Oro State Park in San Luis Obispo County.) The surest way to distinguish a Bishop pine from its look-alike, the Monterey pine, is by counting the needles: Monterey pines have three needles to a bunch, Bishop pines have two needles to a cluster.
The community of Inverness and the Point Reyes National Seashore are near the park.
---
---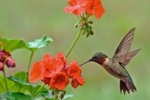 BBs / Inns
Close to Calistoga, Napa Valley and Lake County Vineyards, and Harbin Hot Springs in the Mayacama Mountains, and 2 hrs away from San Francisco or Sacramento. Backyard Garden Oasis is an exquisite respite for those wanting a nature-filled retreat surrounded by some of Californias most beautiful country.
47 miles from park*
The park is 40 miles north of San Francisco, adjacent to Point Reyes National Seashore. Eight miles from Highway One on the west side of the bay and four miles north of Inverness on Pierce Point Road. Address:

Star Route

Inverness, CA 94937