CANE RIVER CREOLE NATIONAL HISTORICAL PARK
CANE RIVER CREOLE NATIONAL HISTORICAL PARK
400 Rapides Drive
Natchitoches, Louisiana   71457
(lat:31.6653 lon:-93.0034)

Phone:
318-352-0383
Email:

The Cane River region is home to a unique culture; the Creoles. Generations of the same families of owners and workers, enslaved and tenant, lived on these lands for over 200 years. The park tells their stories and preserves the cultural landscape of Oakland and Magnolia Plantations, two of the most intact Creole cotton plantations in the United States.
---
Cane River Creole National Historical Park is located near Natchitoches

Red Dirt National Wildlife Management Area
---
---
---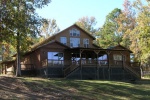 Cottages and Cabins
Whether you are taking advantage of the spectacular fishing and boating on Toledo Bend Lake, hosting a special event, planning a family reunion or holding a business/corporate meeting or retreat, Wildwood can work with you to make sure your stay at the resort is a complete success. Your satisfaction is our goal.
41.4 miles from park*
To reach Oakland Plantation, take I-49 to Exit 127, Flora/Cypress. Head east on LA Highway 120 toward Cypress. Cross over LA Highway 1 onto LA Highway 494. The parking lot and entrance pavilion for Oakland is 4.5 miles east of Highway 1 on the left. To reach the grounds of Magnolia Plantation, take I-49 to Exit 119, Derry. Head east on LA Highway 119. Cross over LA Highway 1 and proceed for 1.1 miles. The parking area of Magnolia Plantation is on the right just before the road closure.

Red Dirt National Wildlife Management Area